Former phoenix ritz-carlton to reopen as the camby hotel
Former Phoenix Ritz-Carlton to Reopen as The Camby Hotel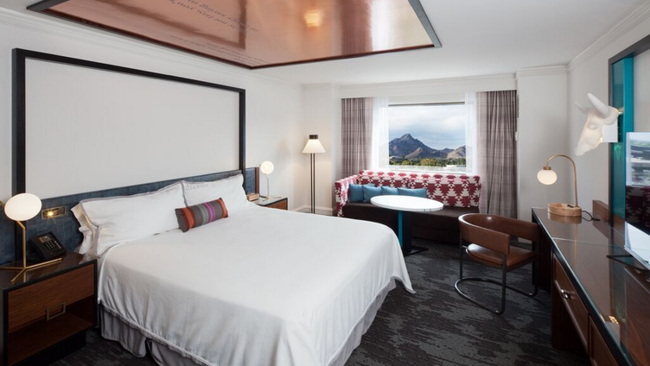 The Camby Hotel, Phoenix's most anticipated independent luxury property, is set to open in December 2015 and will seamlessly blend imagination, sophistication, and statement-making designs to create a unique experience for leisure and business travelers.

The Camby Hotel, Arizona's First Autograph Collection Hotel, promises not only an elegant urban respite, but also a vibrant and engaging experience for those who prefer to add a bit of flavor to their business and distinction to their play. Tradition meets invention at The Camby Hotel, beginning with design that pairs classic columns and stately marble with splashes of contemporary flair. This bold and inspired balance of authenticity and cutting-edge style extends into food, art, entertainment and more.

The hotel will offer luxury accommodations in 277 guest rooms, a new restaurant and two bars, a fresh rooftop pool experience, a boutique spa, and a contemporary fitness center. Meeting planners and business travelers will have access to more than 20,000 square feet of luxury meeting space complemented by smart technology expertly woven into the meetings experience.

Hotel guests will be part of a community of like-passioned people who appreciate both the classic and the trending. The Camby Hotel taps into the cultural conversation, connecting all who crave share-worthy interaction with unique characters and experiences during their travels. A captivating experience in every aspect of hospitality, The Camby inventively satisfies guests¹ desires for the restful and playful, refinement and entertainment, and the timeless and au courant.

The hotel name, inspired by its location near the city's iconic Camelback Mountain, will play into the creative elements of Arizona's first and only Autograph Collection Hotel, calling to mind the playful yet professional qualities that define The Camby Hotel. Following in Autograph¹s tradition, The Camby Hotel will be Exactly Like Nothing Else.

The Camby Hotel will introduce authentically-immersed culinary concepts with a new restaurant and two bars overseen by Director of Culinary Experiences Dushyant Singh. The hotel¹s innovative dining scene will include Artizen, Crafted American Kitchen & Bar, which will be the Biltmore neighborhood gathering place serving crafted American cuisine sourced from the area¹s finest local producers and seasonal regional ingredients. The Bee¹s Knees will be a modern cocktail bar that reaches back to the true classic cocktails with an innovative modern interpretation, and Revelry Rooftop Bar will be home of bragging rights for spontaneous ping pong games while enjoying a locally brewed beer or refreshing margarita. Locals and travelers can hang with friends in this urban oasis while enjoying local entertainment at happy hour and savoring bites like inventive street tacos and hand-wrapped ice cream sandwiches.

The Camby Hotel is incorporating exceptional five-star service with the timeless beauty of the property to create a colorful, elegant, and artfully designed hotel with a touch of playfulness. Drawing upon the destination and using Arizona's Five C's — cotton, cattle, citrus, climate and copper — as a point of inspiration, the design of the hotel, led by Stonehill & Taylor, the second collaboration between Host Hotels and Stonehill & Taylor, is influenced by the state¹s colors and vivid landscape with copper elements and pops of turquoise featured throughout the property.

From the moment a traveler steps into the grand lobby to the time they check out, the latest technology will be utilized by the staff to ensure a smooth and personalized stay. The concierge will no longer be stationed behind a desk or front counter, but will be able to freely walk around, quickly check guests in, and converse with visitors. The latest technology will also create a key directly from a tablet and send a digital room key to smart phones, plus promptly and efficiently process check-out, and much more.

The Camby Hotel is located near Camelback Mountain, at the corner of 24th Street and Camelback Road, offering guests the opportunity to explore the destination with scenic hiking on mountain trails and enjoy convenient access to the best local dining, shopping and cultural attractions, including Biltmore Fashion Park, one of the city's most exclusive shopping and dining destinations. Business travelers will also be able to take advantage of The Camby Hotel¹s close proximity to the Valley's Financial District.

Reservations will start being accepted in early November 2015. For more information on The Camby Hotel, please call 602-468-0700.